Saturday, July 23/2011

Usamrua Furuya Enthusiastically Greets Fans at TCAF
It is always a treat to see Japanese guests fully enjoying themselves when they get an opportunity to interact with their overseas fans. That was most definitely the case at TCAF, as Manga-ka Usmarua Furuya participated in a couple of autograph sessions over the course of the weekend. I had a chance to get him to sign my copies of Genkaku Picasso and Lychee Light Club on the Saturday of the event. As I was getting my fan boy side sated, we spoke briefly about his past works, such as Shortcuts and Palepoili, as well as taking a moment to praise him for his extraordinary work on Genkaku Picasso. He also had a terrific translator accompanying him at TCAF. I found her very pleasant to talk with and she was very keen and helpful when it came to answering and translating any questions I had for Furuya-san.
Following his Spotlight and Q & A panel on Sunday, Usamrua Furuya made his way to the Vertical Booth, where he signed autographs and talked to fans. One fan in particular, made a peculiar request for an autograph illustration, which humored Furuya-san quite a bit, prompting him to pull out his iPhone and snap a picture of this final creation.
Here are some of the pictures FFOmake took at the event, we hope you enjoy them!

Usamaru Furuya's Genkaku Picasso is available at:

Friday, April 18/08

The Kings of Fighters finally gets its due: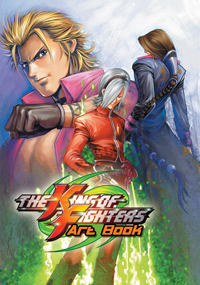 Although not revered on the level of the Street Fighter gaming franchise, SNK Playmore's, The King of Fighters series has a very dedicated and passionate fan following. The fighting game seemed to strike a chord in Hong Kong in particular, where a manhua series was created by Andy Seto, debuting with the publication of The King of Fighters: Zillion. Wing Yang and King Tung, two artists that also hail from Hong Kong, would go on to adapt further manhua after Andy Setoís initial work. This publishing duo is responsible for a long running series of graphic novels based on the popular fighting game series, which include manhua adaptations for The King of Fighters 2001-2003, as well as The King of Fighters Maximum Impact series. Fans of Wing Yang and King Tungís work on The King of Fighters manhua series are in for a real treat this year, thanks to the folks at DrMaster Publications.
What did the doctor order? Another art book folks:
DrMaster is gearing up for their second art book release, and after 2007ís, The Art of Yasushi Suzuki, the company has a lot to live up to. Will they meet expectations with their latest art book offering? Well, looking at the sample pages below from the forthcoming, The King of Fighters Art Book, DrMaster fans as well as those of the popular fighter game series have a lot to look forward to. The King of Fighters Art Book will be a 96 page, full color paperback publication that will feature art from the well-known manhua series, as well as original and exclusive illustrations by Wing Yang and King Tung. Gaming fans will be pleased to know that all of their favorite characters like Kyo, Iori, Mai, Terry, and Geese will grace the pages of this highly anticipated publication. DrMaster plans to release The King of Fighters Art Book on April 30/08.
Sample Pages:
Official Website: DrMaster

Monday, August 20/07

Not all Asian Comics are from Japan:
Japanese manga are without a doubt, the most accessible and readily available form of Asian printed media in North America. Companies like TokyoPop and Viz Media have really helped develop a mainstream market for manga over the past ten years. The growth and accessibility of Japanese manga here, has created a better overall acceptance of Asian printed media, which in turn has allowed publishers to introduce comics from other regions of Asia, such as Korea and China. Korean manhwa in particular, has become quite popular in North America, just look at TokyoPop, who currently have a pretty extensive catalogue of Korean comic books.
On the other hand you have Chinese manhua, which in comparison to both Japanese manga and Korean manhwa, is still trying to find its market in North America. DrMaster, one of the more diverse publishers of Asian comics in the market today, is trying to change all that. The company currently has a catalogue of publications that represent comics from Japan, Korea and China. To date DrMaster have released a number of Chinese manhua such as Real/Fake Princess, Chinese Hero and SNK Vs. Capcom: SVC Chaos. So if anyone is interested in learning more about Chinese manhua, definitely take a look at DrMasterís catalogue of titles.
The wait is finally over:
DrMaster has sent out their August 2007 Newsletter, and have announced that volume 6 of SNK Vs. Capcom: SVC Chaos is finally available. Volume 5 was released quite awhile ago, about a year to be exact, in August 2006. Video game fans will recognize that this manhua, by Chi Wan Shum, is a comic book adaptation of one of the most popular fighting game franchises in history. SNK Vs. Capcom: SVC Chaos is printed in full-color, and if you look at the sample pages we have provided below, the art work is pure eye candy. DrMaster is offering this manhua for $13.95 US, which is an insanely reasonable price considering the fact that it is in full-color. For more information on SNK Vs. Capcom: SVC Chaos please visit DrMasterís official website.
Sample Pages ( Volumes 1-5 ):

SNK Vs. Capcom: SVC Chaos available at:
Official Website: DrMaster

Sunday, July 15/07

Suzuki art book finally available:
Just this last week, DrMaster sent out their July Newsletter, in which they announced the official release of The Art of Yasushi Suzuki. We have been doing in-depth coverage of this art book for the past two months now, so it is very exciting to finally see it available on the retail market. We reported back in early May, that Yasushi Suzuki hand picked all the images used in this art book, which is a compilation that showcases his work as a graphic design artist over the years. The publication is a full color paperback that consists of a total of 84 pages. I have attached a copy of the newsletter below, so please magnify the image if you would like to read the article properly. I have also included a few screenshots of pages from the art book, for those who might be skeptical about the quality of art featured in the publication. DrMaster is offering the art book for $26.95 US, on their official online store, CubicMall.
Sample Pages:

The Art of Yasushi Suzuki available at:
Official Website: DrMaster
Online Store: CubicMall

Tuesday, July 3/07

Exclusive Sneak Peak at Phantoms GN:
Anime News Network reported over the weekend from Anime Expo, that DrMaster had added two more new titles to its graphic novels lineup. Yasushi Suzuki (IKARUGA, Radiant Silver Gun), who is already working on Purgatory Kabuki exclusively for DrMaster, is also working on a second graphic novel for the company, titled Phantoms. DrMaster also announced at the convention, plans to release Metro Survive, by Yuki Fujisawa.
With the official announcement of Phantoms made at Anime Expo, FFOmake has been given the green light to share with our readers, a very exclusive look at this newly announced property from DrMaster. The following screenshots below were taken from pages of the forthcoming publication, The Art of Yasushi Suzuki. The screenshots contain original illustrations by Suzuki-san for the Phantoms graphic novel, a brief description of the title, as well as a sample manga panel from the GN itself. Please keep in mind that Phantoms is still a work in progress, so all artwork and text presented in these sample screenshots do not represent what the final graphic novel will look like.
Information concerning Phantoms is still scarce, so stay tuned to Flash Frame Omake for any upcoming announcements concerning this new and exciting property.
Official Website: DrMaster

Sunday, June 24/07

Final Release Details for Suzuki art book: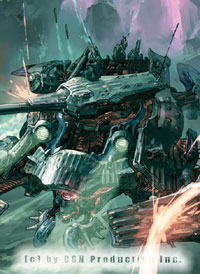 DrMaster had originally planned to officially debut The Art of Yasushi Suzuki at Fanime in San Jose, Califonia, which was held from May 25-28. But due to some printing issues, there have been some changes to the release schedule. The art book will now be available as a convention exclusive at Anime Expo in Anaheim, California, which is taking place from June 29-July 2. The official release date for The Art of Yasushi Suzuki has now been pushed back to one week after Anime Expo. The art book is also still available for pre-order on DrMasterís official website, so get online as soon as possible, if you want to ensure yourself a copy.
Convention Appearances:
DrMaster recently sent out a press release about their plans for Anime Expo:

San Jose, CA. June 2007. DrMaster will be exhibiting at Anime Expo 2007 at the Long Beach Convention Center the weekend of June 29-July 2. Stop by our booth (#1458), talk to our staff, and check out our latest releases. Additionally, we will be holding a daily drawing at our booth at 2 PMówe will pick five winners daily, so make sure you drop by! We will also be hosting two panels: an industry panel and one on our new hit series Purgatory Kabuki and its author, Yasushi Suzuki. Donít miss hearing some important announcements before anyone else does!
"DrMaster Industry Panel"
Meet the people behind DrMaster. Let's travel through time
to reacquaint you with some of our books from the past, present, and the future.
Sunday, July 1
Live Programming 3 (LBCC 201, ~300)
11:00 AM - 11:50 AM
"DrMaster talks about Purgatory Kabuki and the Author!"
DrMaster Publications, Inc. will speak a little bit about our history, what
kind of books we publish, new manga acquisitions, and our new
original manga, Purgatory Kabuki. We will also talk about the author of
Purgatory Kabuki, Yasushi Suzuki.
Sunday, July 1
Live Programming 3 (LBCC 201, ~300)
4:30 PM - 5:20 PM
For more information on DrMaster or Anime Expo, check out the links I have provided.
Official Website: DrMaster
Convention Info: Anime Expo

Wednesday, May 9/07

EXCLUSIVE Art Book Preview:
DrMaster has thoroughly impressed me with the way they have handled the release of The Art of Yasushi Suzuki, and the publication isnít even out yet. I visited their official website a few weeks ago and was teased by some tantalizing screenshots of this yet to be released art book. Well the wait is almost over and Flash Frame Omake would like to share some very exclusive screenshots of this art book with you. I have created two photo albums for you to choose from. One of them is a flash-based album and the other is a flash-free version. If you intend to view the flash-based album you will need Adobe Flash Player. I have provided a link to Adobeís website if you donít already have the plug-in installed on your computer. Please check out the screenshots and hopefully you will enjoy them as much as I have. DrMaster lists a June 15 release date for the Art of Yasushi Suzuki so check out their website for more information.
Adobe: Flash Player 9
Official Website: DrMaster

Tuesday, May 8/07

Treading in uncharted waters: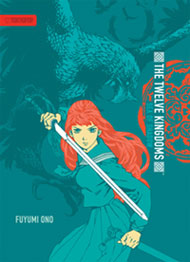 Tokyopop released four titles when they launched their new Pop Fiction line of novels, last October 2006. The novels were Magic Moon, Witchís Forest, Scrapped Princess and Kino No Tabi. This brand new imprint from Tokyopop is an ambitious endeavor, even for a company of their stature. Since the Pop Fiction imprint was launched, there has been a very positive response from both the fans and press. In the last few months Tokyopop has released four new novels which include Chain Mail, Trinity Blood, Twelve Kingdoms and The Adventures of Duan Surk. The Twelve Kingdoms release deserves an honorable mention because it was released in a beautiful Hardcover edition.
The future of Pop Fiction:
Tokyopop has posted an extensive release schedule for its Pop Fiction line of novels, on the official website. The schedule covers new releases leading up to May 2008. When I first read about this new imprint from Tokyopop last summer, I was ecstatic. It is really nice to see that the Pop Fiction novels have been so well received, because they definitely had a huge amount of potential before they were ever released. Please check out the link I have provided to learn more about these new exciting and unique publications from Tokyopop.
Pop Fiction: Release Schedule

Friday, May 4/07

Pushing the envelope of Printed Media: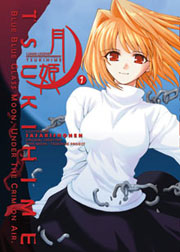 DrMaster was established in 2004 and from its inception they have been dedicated to licensing and publishing a diverse variety of Asian Comics. In 2005, DrMaster took over publishing duties from now defunct ComicsOne who were responsible for releasing titles like Iron Wok Jan! and Crayon Shin-chan. This transitional period initially created a lot of misconceptions as reported by Anime News Network over two years ago. DrMaster never looked back though, as they began publishing a slew of new Asian Comics in North America, while continuing to print a number of titles previously owned by ComicsOne. With properties like Lunar Legend Tsukihime and Junk under their belt, DrMaster is poised to change the landscape of Asian printed media by tapping their ever growing and diverse catalog of titles.
DrMaster flexes its publishing muscle: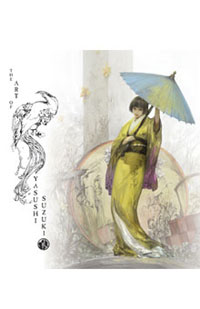 Graphic artist and video game conceptual designer Yasushi Suzuki has garnered quite abit of popularity throughout his professional career. He has done design work for a number of video game titles in Japan including IKARUGA and Radiant Silver Gun. DrMaster announced last year that they had signed on Yasushi Suzuki, to do an entirely original manga titled Purgatory Kabuki. The announcement itself was a milestone, considering the fact that the manga industry is mainly driven by the licensing of already published properties from Japan. And just this February, DrMaster announced the pending release of The Art of Yasushi Suzuki (pictured on the right). Now thatís what I call icing on the cake.
DrMaster has put an insane amount of work into preparing for the release of The Art of Yasushi Suzuki. The buzz surrounding this publication is at an all time high with the official release not too far away. Yasushi Suzuki hand picked close to 100 different images for this compilation which showcases his work as a designer over the years. The art book will obviously contain pieces he did for various video games, as well as original artwork he did specifically for this publication. A foreword by Dave Halverson (Editor in Chief of Play Magazine) and a sneak peak of Purgatory Kabuki are just some of the bonus materials included.
Release Details:
I received an e-mail yesterday that further explained the release details of The Art of Yasushi Suzuki. DrMaster is planning to make the art book a convention exclusive at Fanime which is being held from May 25-28 in San Jose, California. After the convention, they will make the art book available for online order directly from their site, for a total of 20 days. After this time has elapsed the publication will finally be made available world wide. So expect The Art of Yasushi Suzuki to hit retail shelves around the third or fourth week of June 2007. Please visit the DrMaster site for more info about their titles.
Official Website: DrMaster