2006 Archives
Sunday, December 24/06

One of best fan-run conventions out there: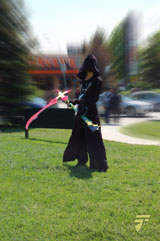 Anime North takes place annually in Toronto, Canada and every year the fan run anime convention just keeps getting better. If you didn't realize by now, Flash Frame Omake is based out of Toronto. I have personally attended the last 5 Anime North's and every year I enjoy the convention more and more. The people that run the con are very passionate fans themselves, who are committed to delivering a diverse and entertaining experience for all those that attend. I feel privileged to live in a city that is home to probably one of the biggest anime conventions in North America.
Anime North announces guests of honor:
Some of the biggest English voice actors in the anime industry are making their way to Canada in late May of 2007 for Anime North. I'm a huge fan of English dubs and when I heard the announcement I could not contain my excitement. Here is a list of some of the voice actors that will be attending the convention:
Wendee Lee [ Faye Valentine – Cowboy Bebop ]
Johnny Yong Bosch [ Claus Valca – Last Exile ]
Michelle Ruff [ Chi – Chobits ]
Patrick Seitz [ George – Paradise Kiss ]
I'm really looking forward to meeting Wendee Lee because not only is she a veteran in the industry, she has played the female leads for some of the best anime I have ever watched. Her performance in Cowboy Bebop as Faye Valentine is a memorable one in the world of English dubs. Anime North is still a few months away, but fans have a lot to look forward to. For more information on the convention please visit the official site.
Official Website: Anime North

Friday, December 15/06

Studio Gonzo never ceases to amaze me:
Studio Gonzo's Romeo X Juliet is one of the most anticipated titles of 2007. The show is set to air next spring in Japan and the official website for the TV series just went live recently. A huge update was just added to the site and it's something that rabid fans like me have been dying for.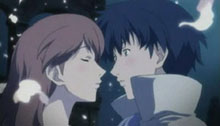 Romeo X Juliet trailer is finally here:
I just finished watching the trailer and the show looks amazing visually. I would expect no less from Gonzo, who are known for their high level animation. I have provided a direct link to the gallery section of Gonzo's official Rome X Juliet website. Just simply press on the link I have provided and choose your screen resolution when you get to the page to view the trailer. All hail to Gonzo, the god's of animation….lol!
Trailer for: Romeo X Juliet

Friday, November 3/06

Show some love for this anime:
Crayon Shin-chan is probably one of the longest running anime TV series in Japanese history. It first began airring in 1992, and since then has spawned hundreds of TV episodes and a slew of movies. In April 2006, Crayon Shin-chan celebrated its 15th anniversary on Japanese television. And now that Funimation has licensed the anime, North American fans can finally see this beloved franchise, that has captivated Japanese viewers for so many years.
Shin-chan building up steam in North America:
Shin-chan had its North American television premire on August 19th , 2006. It has been airring on Cartoon Network's Adult Swim lineup on a trial basis. But obviously Funimation, the North American licensor of the anime hopes that it will continue to air on Adult Swim. And so far from what I've heard, there has been a pretty enthusiatic response to Shin-chan.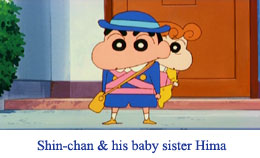 Funimation has also added some new features to its official Shin-chan website. There are now four streaming video clips of different scenes from the anime. Each clip is dubbed in english, which might piss off purists who were hoping for a Japanese language track. A rather humerous extra on the webiste is three different Shin-chan themed Halloween masks, that are all printable off the site. There is also a link on the website that takes you to the Adult Swim message board, where you can post your comments on why they should continue to air Shin-chan. Funimation has also started a street team program adequately named the "bastard brigade." Loyal Shin-chan fans who are enthusiatically spreading the word about the anime, can receive various perks and free prizes from Funimation. There is an application process, so if you are interested check out the website for more details.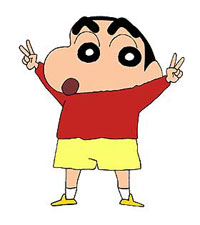 I was surpirsed that Shin-chan was even licnesed in the first place because its brand of humour is just so inately japanese, that I honestly thought it would be a hard sell in North America. I really commend Funimation for not only taking a risk with licensing Shin-chan, but also for so enthusiatically promoting the title here. Funimation are planning to release the first Shin-chan DVD in 2007. And if you can't wait for the DVD go out and pick up the manga which is published here by DrMaster. The manga is a hilarious read and can serve as a good distraction while you wait for the DVD to come out next year.
Official Website: English

Tuesday, October 17/06

Studio Gonzo to produce a Romeo and Juliet anime:
An anime adaptation of Shakespeare's Romeo and Juliet is currently under production in Japan. Gonzo made the announcement a few weeks ago at the Fall Gonzo Festa. The title of the anime is Romeo x Juliet. It was not specified whether this will be a movie, OVA or TV series. But a tentative release date has been set for sometime next year.
I have a feeling that Studio Gonzo will use the same style of animation in Gankutsou for the Romeo x Juliet production. Using the radical and experimental style of animation in Gankutsuou would allow Gonzo to introduce a new visual interpretation of Shakespeare's famous play to the world. I think the results could be stunning. I'm not putting any money on this, but I hope my prediction is right. Wish me good luck everyone….lol!
Source: Anime News Service

Thursday, October 12/06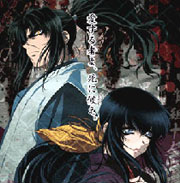 Moving Pictures: Basilisk vol. #1
Basilisk is so much more than an anime about warring ninja clans. The characters are written so well that as you watch the show you start to empathize with their struggles. Two lovers from opposing clans have the power to end a bitter rivalry that has claimed the lives of many. Will they succeed in finally bringing peace to these rival ninja clans? As they say only time will tell, but in the meantime let the blood spill!

Friday, September 29/06

Moon Phase
Funimation just keeps it coming with the hits; their starting to look like the Beatles of the anime industry. They released Basilisk in August and Trinity Blood just came out a week ago. With two big titles like that, fans are already shouting out praises for Funimation. October will be another huge month for Funimation with their release of the Moonphase TV series. Funimation is on a roll and their competitors better take notice of that!
Who wouldn't want to be bit by an uber cute vampire?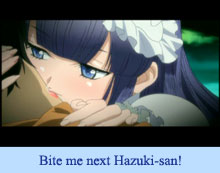 I picked up my copy of the October issue of Newtype USA yesterday and I was humbly surprised to find that the first episode of Moonphase was on the previews DVD; I was like hell yeah! I had heard so many good things about Moonphase from friends and I was eager to finally sink my teeth into it . I remember being oddly addicted to the shows opening theme which I heard while it was airing in Japan last year. After watching only the first episode, I have to admit that Im hooked! Vampires in anime are obviously not a new thing, but Moonphase is unique since it gives the whole vampire theme an interesting twist.
Kouhei is a photographer from Japan who specializes in capturing pictures of the paranormal fare. He has traveled to Germany with two of his colleagues to do some research on a haunted castle there. What Kouhei does not realize is that a very cute vampire by the name of Hazuki calls that castle her home. When the two meet it's almost as if it is by fate. Their encounter will change both their lives forever. I don't want to give too much away so that's just a quick synopsis of the story. Go pick up an October Newtype USA and watch the first episode for yourself! Moonphase Volume 1 is due out on October 17 in both a regular edition and a starter set that comes with an art box.
Official Website: English

Tuesday, January 31/06

Japanese Region 2 DVD covers:
With the final volume of Samurai Champloo released just a few weeks ago, the series has now been released in its entirety in both Japan and North America. The great thing about the region 1 release of Samurai Champloo is that Geneon Entertainment decided to use the original artwork from the Japanese region 2 DVD covers; domo arigato gozaimashita! Since the Japanese DVD release spanned 13 volumes, there was obviously cover art that could not be used for the North American release. The following thumbnails are cover art that was used for the Japanese DVD release and not the North American region 1 DVD release.

Wednesday, January 25/06

Our hometown anime convention:
Anime North 2006 is being held the weekend of May 26-28 in Toronto, Ontario. That's in Canada for all our overseas readers; your all good with your geography, I'm just playing! This will be my fourth time attending Anime North, but the first time as press; wish me luck everyone. The thing I love the most about Anime North is the diversity of fans. Being a Canadian convention, they obviously get a lot of local fans attending, but I was pleasantly surprised to find that there are quite a few American attendees. Toronto is a really good venue since it is relatively close to the border, hence the reason for all the American attendees. Attendance last year reached close to 10,000 and I expect Anime North to do as well this year. Check out Anime North's website because it has had a face lift and looks great. Stay tuned for more updates as the convention nears.
Official Website: Anime North

Tuesday, January 17/06

One of the most anticipated titles of the year:
The fan community went wild when Geneon announced last summer that a Hellsing OVA was in production. Although the 2001 TV series by Studio Gonzo was a solid production, there is always room for improvement. The biggest surprise and probably the most satisfying aspect of the production of the Hellsing OVA is the involvement of the manga's author Kouta Hirano on the project. Its seems that Hirano's involvement in the 2001 TV series was minimal, if any, as he let Studio Gonzo animate his manga with all creative freedom. That is not the case with the OVA though, since Hirano is heavily involved in the production, right down to the casting of voice actors. I had the privilege of seeing the promotional trailer at CN Anime 2005 in Toronto this last summer and the animation looks superb; Satelight Studios has done a stellar job of retaining the artistic style of the manga. The first episode of the Hellsing OVA is being released on DVD in Japan on February 10/06. Unfortunately a North American release courtesy of Geneon will probably not make it to our shores until late summer or fall 2006.
Official Website: Japanese
Animation Studio: Satelight
Publisher: Geneon Ent.