2007 Archives
Tuesday, November 27/07

CHANGE is needed and NOW more then ever!
The anime industry in both Japan and North America has gone through a lot of significant changes in the last few years, particularly in the last few months. The news of Geneon Entertainment ceasing DVD production and distribution of all their properties might not have been a shock to industry insiders, but the majority of fans out there were in utter disbelief when word finally got out. I think a lot of people, particularly media and those who work in the industry view the demise of Geneon, as a sign of the current troubling state of things.
Everyone is throwing around numbers and statistics about anime sales being down or how much percentage of people actually download fansubs? This numerical talk is all fine and dandy, but I personally believe that a solution to this problem can only be reached, if fans and anime companies stop blaming one another. Iím frankly sick and tired of fans bickering about overpriced DVDís, and Iím not very impressed at how anime companies attack fans on issues like fansubs. Iím not trying to say that either side does not have valid points to back up their statements and arguments. Iím simply suggesting that things have gotten to a point, where both fans and anime companies need to work together so a resolution can be reached, to address the situation at hand.
I think a lot of people tend to forget where anime originates from and where it is produced, in Japan. I honestly believe that before change can happen here, it must first take place in Japan. It is true that in the last few years, Japanese companies have been relying on overseas revenue and licensing fees of their properties, to turn a profit on their investments. But I believe that the Japanese business model when it comes to marketing and selling anime has to be completely revamped, because their current one is simply not working. Fewer shows are being licensed theses days, North American anime DVD sales are down drastically and they have continued to decrease over the last couple of years. More and more fans have turned to illegall downloading, and who can really blame them, it is something that is readily available, free of cost and there are no consequences for their actions. I could continue my literary rant for hours, but if I did I still would not be able to come up with a concrete solution to fix the current state of things. I will end off by reiterating, that if change is to going to happen here, it first must take place in Japan!
Justin Sevakis at Anime News Network has written an open letter to the anime industry, in which he discusses some very touchy subjects, chief among those, being the issue of fansubs. His editorial is a very thorough and informative read, and gives some great insight into an industry that is at a crossroads.
Justin Sevakis: An Open Letter to the Industry

Sunday, November 25/07

Two times a charm!
Bandai Entertainmentís recent acquisition of Lucky Star, will have the company partnering up with Kadokawa Pictures once again for a North American release. These two companies joined forces most recently with The Melancholy of Haruhi Suzumiya, which turned out to be a huge hit on this side of the Pacific. Will they experience the same success with Lucky Star, which is one of the most popular anime series in Japan right now?
You can be my Lucky Star!
The other day, I googled Lucky Star, hoping to learn more of about this new anime sensation from Japan. I was pleasantly surprised to see Madonnaís 80ís hit song, "Lucky Star" turn up on my search engine results. I cringed for a moment, as I thought back to my childhood years of growing up and listening to sugar coated pop music from that era. Wow! I guess Iím starting to get old. I have not watched all of Lucky Star, but it would be hilarious if this classic Madonna pop tune was spoofed in the anime, and from what I have seen of the show that idea would not be too far of a stretch.
Bandai Entertainment and Kadokawa Pictures USA have not yet announced a release date for the TV series, so until then, chomp on this humorous promotional trailer that had me in stitches.
Official Website: Japanese
Streaming anime is the future?
ADV Films has recently made the first episode of Pumpkin Scissors available for viewing on the multimedia news site, IGN. This new Studio Gonzo and AIC co-production, is one of the strongest anime titles to be released in North America this fall.
War benefits not the people, but only a chosen few...
Who really benefits from war and the spoils left behind when it passes? Well, those who are in positions of power have the most to gain when the dusk settles. What about the people? The General Populous who have endured the war and survived, and are left with nothing in most cases as they struggle to put the pieces of their lives back together.
Pumpkin Scissors is a new and exciting show from ADV Films that tells the story of a nation struggling to rebuild itself after a devastating war. A special section within the Imperial Government dubbed Pumpkin Scissors, has been tasked to deal with the ever pressing issue of war relief. The group is led by the tenacious and kindhearted, 2nd Lieutenant Alice L. Malvin, who is determined to bring order and prosperity to a nation in strife. In the first episode, Alice meets Corporal Randel Oland, a retired soldier with a past cloaked in mystery. Their chance encounter sets the stage for the main story arc.
Below, is the first episode of Pumpkin Scissors presented in its translated English Dub format. Itís really exciting to see companyís like ADV Films streaming their new anime properties online, so consumers can preview it before they decide to make a purchase. It would be nice if they offered the option of watching these streaming episodes in the original Japanese audio track with English subtitles. I hope this is something that these companies may consider in the near future.
Official Website: English

Sunday, September 9/07

Visual Effects Pioneer
Fumihiko Sori is slowly but surely, becoming a household name in the Japanese film industry. In 2002, he had his directorial debut on the highly acclaimed Ping Pong film, which was based off a manga by Taiyo Matsumoto. Sori-san changed gears for his next project, the fully CG animated Sci-Fi action thriller APPLESEED, which was extremely successful on an international level. His latest film, Vexille, was released in Japanese theaters this past summer .
SORI Soars into Film Festival with new Production:
Fumihiko Soriís latest full-length feature film Vexille, is having its North American premiere at the Toronto International Film Festival, which is being held from September 6-15. The film was recently licensed by Funimation Entertainment. The Toronto International Film Festival will be hosting a total of 3 screenings of Vexille over the course of the event, but the official North American premiere, will be held on September 9 at Ryerson Theatre.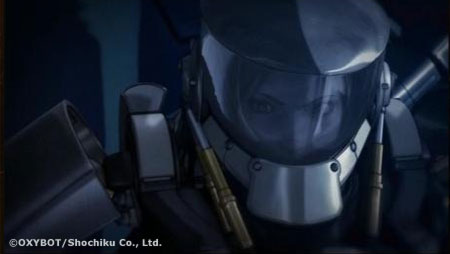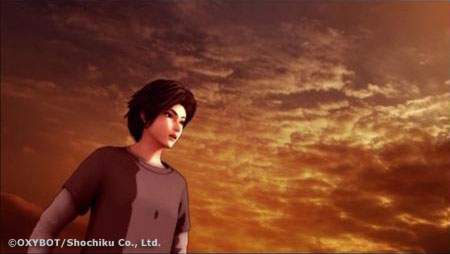 Vexille promises to be thoroughly engaging on both the story and visual front. It looks like Fumihiko Sori learned a lot from his previous movie, APPLESEED which was also a full CG animated production. If viewers found the animation in APPLESEED a little awkward at times with its heavy computer graphics, that will not be the case with Vexille. The CG in this latest film is more refined and seems to blend in better together with the detailed backgrounds. Viewers should also pay attention to the character animations which are simply stunning. OXYBOT, the studio that produced Vexille, did an unbelievable job with the visuals for this film.
The soundtrack for Vexille is produced by internationally acclaimed DJ Paul Oakenfold, who also made musical contributions to the APPLESEED film as well. The majority of the soundtrack is done by Paul Oakenfold, with contributions from artists like Boom Boom Satellites, Black Strobe, MIA, DJ Shadow, Basement Jaxx and Asian Dub Foundation.
Colin Geddes, who is in charge of the programming for the Midnight Madness screenings at the Toronto International Film Festival, wrote the following piece on Vexille:
The year is 2077. For ten years, Japan has isolated itself from the rest of the world, opposing a United Nations treaty that restricts areas of advanced research in biotechnology. At the behest of Japanese mega-corporation Daiwa, who monopolize the global market in industrial robotic technology, the countryís borders have been closed and a sophisticated magnetic shield has blocked communication and satellite surveillance. Life in Japan has become a mystery.
Following the discovery of a ďhumanĒ limb with flesh replaced by a form of bio-metal, S.W.O.R.D., a United States Special Forces unit that polices treaty violations, is dispatched to infiltrate Japan. The unit, which is led by female commander Vexille, teams with an underground rebel force in Tokyo. The revelation of Japanís new reality shakes Vexille, as she witnesses the destruction of both land and citizenry by Daiwa and the monstrous Jags, whirling, metallic android cyclones (reminiscent of Duneís sandworms) that seek out and devour any form of metal in their path.
Vexille director Fumihiko Sori is a visual-effects specialist who made his directorial debut with the 2002 smash Ping Pong and who was producer and VFX director on the groundbreaking Appleseed. With Vexille, he reaches new levels of excellence in the world of animated art, placing expressive characters against a landscape of stunning vistas. These visuals serve as a springboard for breathtaking action sequences that race in tune to the staccato music of DJ Paul Oakenfold, the filmís soundtrack supervisor. A nest of spider-like battle droids blast away at hulking robotic opponents; all-terrain vehicles rip through the desert pursued by the voracious metallic worms; agents in gleaming battle armour crash and spin in high speed chases.
However, contained within this multi-sensory spectacle is a reflection on the role technology will play in our future, with the potential to both liberate and inhibit humankind. This filmís contemplations are heightened by Soriís unusual, introspective decision to position Japan in the role of the storyís international villain.
Dive into the futuristic odyssey of Vexille, surface in Tokyo Bay and discover a country sealed off from the rest of humanity, where one mystery leads to another.
TIFF Vexille Screenings:
- Date: Sunday, September 9
- Time: 11:59PM
- Venue: Ryerson Theatre
- Address: Ryerson University - 43 Gerrard Street East
- Date: Tuesday, September 11
- Time: 12:00PM
- Venue: Scotia Bank Theatre
- Address: 259 Richmond Street West
- Date: Saturday, September 15
- Time: 11:30PM
- Venue: Varsity Cinemas
- Address: Manulife Centre - 5 Bloor Street West - 2nd Floor
Official Website: Japanese
Toronto International Film Festival: Vexille Page
The one and only and VERY Talented.....
Interviews: Julie Ann Taylor - Round #1
Anyone who has watched their share of English dubs will tell you that there are certain actors, who are almost instantly recognizable as soon as you hear their voice. Julie Ann Taylor is one of those voice actors, well at least for me. I have heard her in numerous anime titles over the years, particularly Geneon releases, and find that she is one of the most talented people in the VA industry. Her performances are so sincerely portrayed, that every time I hear her, I feel as if she is pouring her heart into the character. This is why I simply adore her as a voice actress! I recently did an extensive interview with Julie Ann Taylor, so please enjoy the read.
Kudos to Bandai:
Regardless of whether or not you like The Melancholy of Haruhi Suzumiya TV series, there is no argument that the marketing and advertising push by Bandai Entertainment to promote this property in North America, is nothing short of amazing. I will be completely honest, I watched the first volume DVD of Haruhi Suzumiya back in May when it came out, and I have to say that I was not overly impressed with the show at all. I personally feel that it is one of the most overrated anime TV series I have ever watched, but that is just my opinion. What I find quite unusual, is that even though I feel this way, I genuinely want to watch more of the show. Why is that you ask? Well simple, Bandai has marketed the property so well that the show and all its related commercial tie-ins, make The Melancholy of Haruhi Suzumiya so god damn appealing.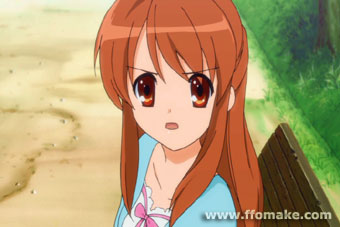 I particularly like the website that Bandai Launched to promote the anime. Instead of a generic ďOFFICIALĒ website, with the requisite series information, like story synopsis and DVD release details, Bandai opted for a different approach. I was expecting something along the lines of www.haruhisuzumiyadvd.com, but instead Bandai created www.asosbrigade.com, which works so well for promoting the show. Fans recognize that URL instantly, because the ASOS Brigade is the zany club run by one of the main characters, Haruhi, duh! The highlight of the ASOS Brigade website, are the special episodes put together by the folks at Bandai and Kadokawa Pictures USA, which feature things like interview footage with the English voice actors.
I have included below, 2 episodes off the ASOS Brigade Website. The first video contains short interviews with Johnny Yong Bosch and Wendee Lee. The Second video is one of funniest things I have watched in awhile, and in it, two of the original Japanese voice actors, Yuko Goto and Minori Chihara, actually interview their English counterparts, Stephanie Sheh and Michelle Ruff. This episode in particular had me on the floor, so make sure you have a cup of water with you while your watching it.
I had doubts with the anime when I first saw it, but thanks to Bandai and their unique way of promoting The Melancholy of Haruhi Suzumiya, Iím slowly becoming a believer. Now where was my credit card? I need that ASOS Brigade arm band! I forgot, was it packaged with the Limited Edition Volume 1 or 2 release?
- A-run
The Adventures of the ASOS Brigade Episode 004.1
The Adventures of the ASOS Brigade Episode 004.2
Official Website: ASOS Brigade

Thursday, May 31/07

Interviews: Kari Wahlgren - Round #1
I have heard Kari Wahlgren in a number of anime titles over the years. But it was in the video game Final Fantasy XII, in which she voices Ashe, that Kari delivered one of her best performances to date. I just recently beat Final Fantasy XII, so I was excited about getting the opportunity to ask Kari a few questions about her voice work in the game.

Wednesday, May 23/07

Interviews: Stephanie Sheh - Round #1
Paradise Kiss was the first anime that Stephanie worked on as an ADR director. She has been an active voice actress for many years now, so she has a wealth of experience when it comes to working on English dubs. Stephanie did an amazing job with the dub for Paradise Kiss so I was ecstatic about getting the opportunity to interview her.

Friday, May 18/07

Interviews: Patrick Seitz - Round #1
George Koizumi is just one of the many colorful characters in Paradise Kiss. The man that breathed life into Georgeís character was the very talented Patrick Seitz. With Paradise Kiss fresh on my mind, I decided to throw some jabs at Patrick and ask him some questions about his work on the show. His very thoughtful and articulate responses knocked me clean out, I was caught off guard. I guess I have to step up my game next time I enter the ring with a voice actor heavyweight like him.

Friday, May 11/07

Limited Edition Champloo Tees:
Manglobe, the animation studio that produced Samurai Champloo announced on November 28, 2006, that designer clothing company STUSSY would be doing a limited line of t-shirts based on the hit anime. TSUBACI, a design team affiliated with Manglobe worked in tandem with STUSSY on the project. There were a total of five different t-shirts designed. Three of the t-shirts were each based on one of the main characters Mugen, Jin and Fuu. The other two t-shirts, the Dragon and Samurai tee are based on overall themes of the show. I canít read Japanese, but from what I was able to decipher from the TSUBACI site, Samurai Champloo character designer, Kazuto Nakazawa created the original illustrations used on these limited edition t-shirts. The bad news is that I think that these t-shirts are only available for sale to Japanese residents. This means that they probably donít ship them to customers outside Japan. Well you can do what I did when I first saw these t-shirts, drool like a dog and wished that you lived in Japan. I have posted images of three of the t-shirts below; please visit the TSUBACI website if you want to see the other two designs.
Animation Studio: Manglobe
T-shirt Design: TSUBACI
Clothing Company: Stussy

Tuesday, May 8/07

I think Haruhi is taunting me: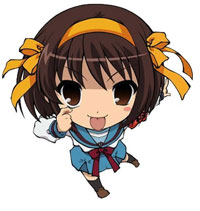 Anime North 2007 is steadily approaching. The convention is actually just around the corner, but some disturbing news has surfaced. This is horrible; I have caught word that the characters from the super hit anime, The Melancholy of Haruhi Suzumiya are planning to take over Anime North. What are we supposed to do? Haruhi and her notorious SOS Brigade is a scary bunch. On second thought, I might have to pass on this yearís convention. My safety is at risk! If Haruhi and her delinquent bunch mistaken me for some spirit or paranormal being, it could spell the end for me.
Anime North hosts Canadian Premieres:
Bandai Entertainmentís highly anticipated, The Melancholy of Haruhi Suzumiya will have its Canadian premiere at this yearís convention. The company will also be screening the live-action Cutie Honey film by famed anime director Hideaki Anno. Anime North has also listed Manga Entertainmentís Highlander: Search for Vengeance as a Canadian premiere at the convention. Please check out the link I have provided for more details on these screenings.
Anime North: Video Rooms

Monday, April 23/07

Japan's Premiere Anime Festival:
The Tokyo Anime Fair (TAF) is held annually and this year it celebrated its sixth year running. The entire event is dedicated to promoting the latest animation properties from Japan. Companies from all over the industry invest a lot of money and time into building attractive setups for attendees to literally drool over. Madhouse Studios The Girl Who Leapt Through Time (pictured above), was the anime that probably attracted the most attention at TAF 2007. When the awards for various anime categories were announced at the fair, this new movie from Madhouse practically cleaned house.
Tokyo Anime Fair Coverage:
The TAF 2007 was held from March 22-25. Unfortunately, I have not yet attended the TAF but I hope to for the first time either next year or in 2009. The folks over at Anime News Service did attend this yearís TAF and they have some great exclusive coverage from the event. Please check out the following links to find out more about the Tokyo Anime Fair.
Exclusive TAF 2007 Coverage: Anime News Service
Official TAF Website: English
A grave mistake:
About a week ago I was on Anime News Network reading over their news items and came across a blurb about a funeral in Japan. I admit that I was in a rush so I actually only glanced at the news item. From just the few words I read I assumed that they were reporting on someone in the industry passing away. I was like, ďthatís terribleĒ and I felt saddened for a moment because I feel so passionately about the anime and manga industry in Japan. I would say about two days later, I decided to revisit ANN and read the details about the funeral. And to my utter surprise I realized that what I had thought was a real funeral, was in fact a fictional funeral for one of the main characters from the Fist of the North Star series. I felt extremely stupid and I think I must have been laughing my ass off for like ten minutes straight. I have provided a link to the article so please visit it because you might get a good kick out of it.
Anime News Network: Fictional Funeral

Friday, April 13/07

More and more anime appearing at film festivals:
Kurau Phantom Memory which was released this week on DVD by ADV films, is being screened at an international film festival this weekend in Toronto. I know this news is last minute but I was given the word by a friend from Much Music just a mere two days ago. This screening is being heralded as the official Canadian Premiere so Iím planning to attend it. And coincidentally the movie theater that it is being screened at is only a block away from where I live. I have seen only one episode of Kurau Phantom Memory, but it impressed me so much that I think it has the potential to be one of the best titles of the year.
An anime screening that went under the radar:
The seventh Annual ReelWorld Film Festival which is being held from April 11-15 in Toronto, will be screening the first 4 episodes of ADVís Kurau Phantom Memory. The subtitle for the feature is Between Two Worlds, so its safe to assume that the first DVD volume of the anime is being screened. Anyone who is in the Toronto area and happens to be reading this, please come out and support this anime tonight. Here are the details for the screening.
- Date: Fri, April 13th, 2007
- Time: 11:00 pm
- Place: Rainbow Cinemas, Market Square [ Theatre 6 ]
- Location: Toronto, Canada
Official Website: ReelWorld Film Festival

Tuesday, March 27/07

An always evolving industry: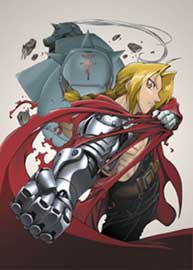 Anime has really grown leaps and bounds in the West during the last decade. Japanese animation has been airing on North American television for over 20 years now, but its popularity has reached new heights in the last few years. And on February 24/07, anime reached another milestone on our shores. With the first ever American Anime Awards held in New York City. The event was hosted by the New York Comic Con. It was a night where people throughout the anime industry in North America, got together to celebrate this beloved art form from Japan. There were a number of award categories, ranging from best voice actor/actress to best DVD package design. And not surprisingly, fan favorite show Full Metal Alchemist took home a large portion of the awards.
American Anime Awards 2007:
All I have to say is, I wish I could have been there. After so many years as an anime fan, an award show to honor my most cherished pastime, and I couldnít even be thereÖ..sob. My pouting aside, the first annual American Anime Awards was for the fans through and through, the way it was meant to be. Before the awards were held, votes cast over the internet by fans nationwide were collected with the help from some of the major sites like Anime on DVD and Anime News Network.
Looking at the different awards categories there are some areas I think that should be expanded for next year. The manga category should be branched off into different genres as oppose to just one overall award for best manga. I love English dubs, donít get me wrong. But I think that Japanese voice actors/actresses should be recognized at the awards next year. Another final thing that I would like to see added to next years awards. Are categories for best director and character designer for anime. Even though these are the American Anime Awards, I think it is important to recognize people in the industry from Japan; I mean thatís where this stuff originated from. I have provided a link to the winners page, so check it out and enjoy it for yourselves.
American Anime Awards: Winners List

Monday, February 12/07

Edited Air Gear episode: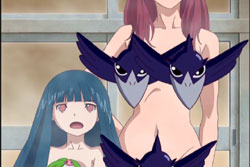 I have to admit this was a first for me. So I pop in the February Newtype USA DVD and press play on the first episode of Air Gear. And as usual I expect the anime to start up right away, but to my surprise a black screen appears with a disclaimer. The disclaimer states that this is the edited version of Air Gear that originally aired on television in Japan. I was like hmmÖ.. this is gonna be interesting. That was the first half of the opening sentence of the disclaimer and frankly I lost my patience. So I did not bother reading the rest of it, I quickly pressed next on the DVD remote. So Iím watching the anime and I would say that about ten minutes into it ,there is a shower scene with the female characters. As is the case with scenes like this I was curious whether or not there would be nudity used. And to my surprise there was brief frontal nudity but it was blocked by these hilarious crow decals. I was in tears from laughter, so I watched that scene over and over again just to get a kick out of it. I have provided a screenshot of where the censoring appears in the episode. But you need to see this in action because it is hilarious. But for those who might be concerned, ADV films released the uncut version of Air Gear on February 6. So you wonít have to worry about those troublesome crow decals popping up....hehe.
Official Website: Japanese