Gearing up for Final Fantasy XII!
The release of Final Fantasy XII, Square Enix's biggest and longest running series, is quickly approaching. This is a major release for Square Enix for several reasons.
First, it is the return of the true Final Fantasy epic. By epic, I mean a single player experience heavily focused on story. The last game that followed this formula was FFX released back in 2001. Final Fantasy XI was released in early 2004 but it departed greatly from the roots of the series. Instead, Final Fantasy XI ventured into the popular Massive Multi-player online market, with an emphasis on online play. With FF XI still active today, thousands of players meet online and quest together. The story in FFXI is minimal, and the cut scenes fans have come to expect are nonexistent. FFXI does have a Final Fantasy feel to it, but it is definitely not a true Final Fantasy game (because it has no ending and you have to pay monthly to play it). FFXI has left a lot of the hardcore fans pretty upset about Square Enix's decision to include it in the official Final Fantasy franchise. A better name would have been Final Fantasy Online.
Secondly, this will be the last Final Fantasy game for the PS2! With two FFXIII games already announced for PS3, this will be the farewell game to close not only the PS2 chapter of the FF legacy, but possibly seal the PS2's legacy as a whole. PS3 will be launched later in the month, and some are speculating that this may be the last (and possibly best) quality game to hit the aging console.
Lastly, this is the first FF game to come to North America with a collector's edition. This Limited Edition version is only being sold in Canada exclusively through EB Games and Gamestop; it is retailing for $10 more than the regular edition. It includes a bonus DVD with developer interviews, a history of the franchise, art galleries and trailers. It also comes packed in a pretty sweet looking tin case.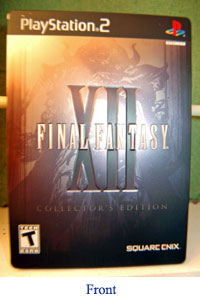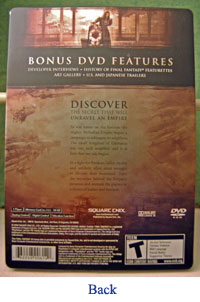 If you are as big a fan of Final Fantasy as we our here at FFOmake, then I recommend you run down and preorder your collectors edition ASAP. It will not stay on retail store shelves for long, that you can be sure of. With less then a month to go until release, we can hardly wait to finally get our hands on Final Fantasy XII.
Contributed by: Cain
- October 15, 2006