PlayStation 3 & Nintendo Wii Launch Week
Well launch week has come and gone for the next-gen consoles. A new era of gaming was unveiled to the world, with both the PlayStation 3 and Nintendo Wii hitting store shelves on the 17th and 19th of November respectively. FFOmake was there to cover it and round up all the info you need to know about what went down on launch day.
It was a relatively smooth launch for both consoles. Well as smooth as one could expect with there being such a limited supply of both consoles. The hardest of the hardcore gamers lined up 2 ½ days early at local Best Buys, Wall marts and Future shops in order to ensure their right to purchase a PS3 and/or Wii. None of these mega corporate retail chains took any preorders, so they were running off a first come first serve basis. With Lawn chairs, tents, blankets and handhelds at their disposal; fearless gamers braved 2 days of spitting rain and cold Canadian November weather with smiles on their faces the whole way through. Many thought these individuals were stupid losers, just waiting around for "toys" when they should be working. That was until word got out that these "toys" were going for over 10 grand on EBay! In some downtown locations homeless people were paid $50 a night to hold a place in line!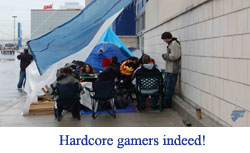 On launch day there were fist fights reported at store openings throughout the world. Fights broke out over such grievances as holding spots in the lineup for friends, trying to sneak into the lineup and even over which line was the "official" one. There were a few minor shootings and stabbings in the States over the PlayStation 3. And in Toronto, one demented individual bought his PS3. Then walked outside the mall and proceeded to smash the console on the concrete in front of a news crew. Why did this publicity whore do such a thing? Who knows and who cares. That moron just threw away a potential 10 grand profit.
The Wii launch was a little more eventful. The amount of PS3's shipped on launch date was minimal compared to Nintendo Wii's. Three times the amount of Wii units than initially expected showed up in many different locations on the 19th. When those who had given up hope of grabbing a Nintendo Wii found out about the increased inventory at some stores, there was a renewed frenzy for acquiring Nintendo's new innovative console. The biggest seller was not just the Wii system itself either. Companion accessories like Wii-motes and Nunchuks were sold out within hours of store openings. And quickly became sought after items for those interested in multiplayer gaming with Wii Sports; which was bundled with the console.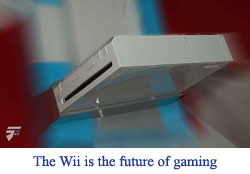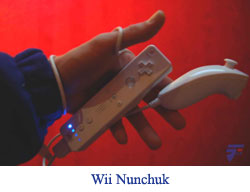 By the end of launch week both consoles had basically sold out at retailers across North America. And much, much more units are just waiting to be sold. It seems that the PS3 and Wii are on everyone's minds, and are being talked about everywhere I go. "Did you hear how much those things are selling on EBay for?" Or, "Have you tried the new Nintendo yet?" they ask. The only question I have is "When the hell are we going to get more of these next gen-consoles for the rest of the world to enjoy"! I am talking to you, Sony and Nintendo!
Contributed by: Cain
- December 3, 2006